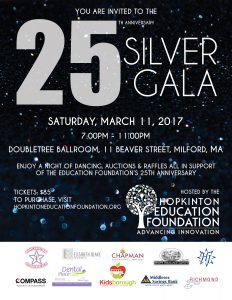 The Hopkinton Education Foundation thanks YOU – everyone who donated, attended, helped in anyway towards making our Silver Gala the successes that it was.  We couldn't do it without you!  This year, we were able to raise over $14,000 towards helping provide innovation in the Hopkinton classrooms.
Kelly Benson, one of the Event Coordinators reflects these sentiments as she looks back at the event; "I just want to thank everyone who came and supported the Foundation.  They are truly helping all of the children in the town.  Without their support, we wouldn't be able to fund all of these amazing grants year after year."
Highlights included the music of an amazing local band, Velvet Skies, gorgeous flowers donated by local florist SunnySide Gardens and delicious treats provided by Confectionism.  Not to mention the hundreds of local companies which provided donations to our over 100 auction and raffle items.  Ronnie Kessler, who coordinated all of the donations, noted the continued generosity of one local business.  "Thanks to the continued generosity of businesses such as Elizabeth Blake Orthodontics, whose braces package worth nearly $7000 always brings in a huge dollar amount for our organization, we are able to raise money to support the amazing grants we get in year after year."
The Education Foundation Board would like to thank these two women who tackled the Silver Gala with enthusiasm, attention to detail and joy and it showed!  We can't thank you enough for your hard work.