Grants in History
HHS Library Renovation
Hopkinton HS has recently become a fully integrated 1:1 school.  This grant will allow the HHS library to be poised to reinvent itself and serve not only as a 1:1 technology resource but as a collaborative learning commons center as well as becoming a true digital learning hub.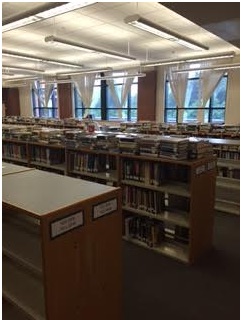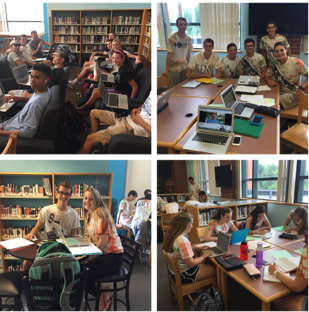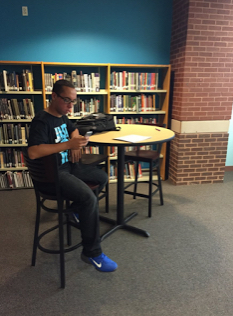 Enhancing the Digital Art Curriculum through Interactive Experience, 2015
This grant will provide students with a new way to exhibit, publish, display, critique, and experience their digital masterpieces via adigital gallery in a public space.
"I'm thrilled that our new Digital Art Installation is here and up and running. We've already witnessed countless students and staff members taking in all of the artwork on display. I'm looking forward to rolling out the interactive critique component in the Spring semester courses and lesson plans are underway that will facilitate both this and the digital gallery component. As a department we're really focused on getting our students to talk about art and understand the process that goes into curating works of art. This grant will allow us to align our curriculum to the standards in a new, exciting and innovative way."
Maker Magic: Create, Discover, Learn @ the HHS Makerspace, 2015
This grant creates a makerspace at Hopkinton High School to invite student curiosity, foster student driven inquiry based learning and encourage collaboration and innovation through a variety of tools housed in a portable storage unit.
"The HHS Makerspace has helped us foster a community of creativity and innovation, complementary to our STEAM curriculum. Students now have the tools and opportunity to tinker and make their own discoveries with more tactile materials, outside of the traditional classroom setting. The space has become a place for students to destress and embrace the DIY movement, while still being productive. One student said it best when she stated "I finish all my homework the night before, so I can come in the next day to work in the makerspace!"


Active for Life Grant, 2011
This grant funds a project to enhance the district-wide Wellness curriculum and improve student understanding of health and fitness. Funds provide professional development and training in Physical Best/Fitnessgram assessment methods and tools for Wellness staff (K-12) and three school nurses. It also provides software, hardware, and related technologies to the Middle School Wellness team to pilot the implementation of the new curriculum and assessment tools.
The Innovation Lab funded by the Hopkinton Education Foundation: Creating Inspiring Learning Spaces for HHS Students
This grant creates an inspiring student learning space that will serve as an incubator for a more innovative approach to classroom design through the Hopkinton school system.
Rows of desks facing front has been the education standard since classrooms were created. A more innovative environment allows for collaboration and contribution with flexible desk arrangements.
"As the department head, I have had many opportunities to see classes in action in this space. It is amazing to see how a change in structure has facilitated student interaction. I have been most impressed with how students are teaching other students and really taking ownership of their own learning in this environment. This is all possible because of HEF supporting the vision of Hopkinton educators."
Virtual Travel with Google Cardboard, 2016
This grant will enable the techno library teacher as well as classroom teachers at Hopkins and Elmwood to immerse their students in virtual field trips bringing abstract concepts to life as well as offering the students a deeper understanding of the world beyond our classrooms. It will fund 60 View Masters and applicable devices for running Google Expedition. They will be stored in the library were teachers can sign them out.
Do you remember taking field trips to such places like the Brooklyn Zoo or the Hoover Dam?  How about to Ancient Greece or even up to the Moon?  Thanks to technology, not only is this possible today, but students don't even need to leave the comfort of their classroom!
The Hopkinton Education Foundation is first to offer this opportunity in our schools; through two grants funded last year.  One in Hopkins School and the other in the Middle School students are now able to explore, virtually, the world outside of their 4 classroom walls.
Imagine learning about the human body's systems and then being able to put on a pair of VR goggles and being able to explore the body in 3D, seeing how the system works and interacts within the whole body.  Or in history where, for example, one can recreate something like the Civil War, providing virtual field trips to tour the battlefields and march where the armies travelled in The South, perhaps meeting some of the War leaders.  [1]
According to one of the recipients, who used the Google Cardboard with a small group of third graders as a trial last week- one student turned to another as the teacher left, and was overheard saying, "This was the best library class ever!"   The teacher rated it as 100% and said "My students loved their safari and it tied in beautifully to our Kenya studies! We learned about the strength of the elephant and the how the Kenyan climate and land are different from where we live. "
It is exciting to consider what could be accomplished if the power of virtual reality was harnessed for education rather than its currently focus of gaming; if developers turned their resources away from creating games that teach children how to steal cars and kill people and toward allowing them to explore history, science, art and other subjects in innovative new ways, just imagine the possibilities!
Kano Kits, 2014
Have you ever built a computer? Well thanks to a grant written by Stephanie Doty, the Technology Integration Coordinator at Hopkins School and funded by the Education Foundation, many 4th and 5th graders can say they have!
This 4-week program where students are given a Kano Kit, a DIY computer set designed to help assemble a computer from scratch, and learn basic coding skills. Ms. Doty notes that this is a powerful learning tool because the computers are "stripped down and using world and blocks to program."
Sitting in the classroom listening to both Ms. Doty and her students talking about these computers, the vocabulary was intense; wifi dongle, raspberry pi, operating systems and more! In talking to Adam Huntington, who was in 5th grade at the time, he noted that he "loved learning about technology" and was clearly proud of himself as he put together the intricate parts of a circuit board. "Computer stuff is pretty complex, but definitely fun!"
In a world where these children are inundated with technology all around them, the premise of the grants was to allow children to understand technology at its true core "to see what is inside" and how something functions. Perhaps that could lead to a greater consideration and appreciation for their beloved devices.
Engineering is Elementary, 2014
Stunned silence. That's how the group of kindergarten and first grade students sat as they interacted with NAO, a 14-month-old wireless robot that answered questions, moved around
and even danced! NAO and Mark Bishop of Mobile Ed Productions, along with the STEM
Museum, visited Center School in mid-April thanks to a Hopkinton Education Foundation
grant awarded to Center School Principal, Lauren Dubeau, and Elementary Director of
Curriculum, Meredith Ekwall. This was a culmination of a yearlong STEM classroom experience, which engaged nearly 400 students in critical thinking, creativity, collaboration,
and communication.
Other than their experience with robotics, students were given the opportunity to explore stations focusing on numerous STEM concepts; Holograms, Newton's Cradle, Friction Raceway, Geometric Shapes, Electricity Generation and more. According to Principal Dubreau "students of all abilities and learning styles readily investigated and explored, deepening their growing understanding of STEM concepts." Kale Martin, a kindergartener, couldn't decide what his favorite part of the day was. "I love everything!," he exclaimed as he motored from activity to activity.
According to Rebecca Leary, a Kindergarten teacher at the school, the STEM curriculum in her classroom has been a motivating factor for students to use a hands on approach to understand what scientists and engineers do in the community. She remarked that the students enjoyed creating their own bridges to see how strong they could make them. "I love building the arches" said kindergartener Ryan Dow, a potential engineer in training. He spent nearly 25 minutes of self-directed free play at the arch building center working diligently with his peers, attempting to put together the perfect arch with appropriate supports.
In first grade, educator Liz Farrell noted that students focused a lot of STEM energy on light and understanding how light is absorbed transmitted and reflected. These lessons could be demonstrated as the students pedaled a stationary bike, attempting to light up bulbs, thus generating electricity!
In addition to the wireless robot NAO, the students were highly impressed by the 3D printer, which worked throughout the day to create miniature plastic versions of some well-known cartoon characters. Watching the small printer create something "out of nothing" amazed the students and even many of the volunteers.
Liz Gormley, a Hopkinton Education Board Member was one of the volunteers at the event as well as a parent to a Kindergarten student.
"It is so exciting to see Education Foundation grants in action. There is clearly a thirst for knowledge amongst the students at Center School which was shown by their smiles, laughter and enthusiasm all day long." The principal agrees. Ms. Dubeau couldn't be more pleased with how this grant has impacted the students at Center School; "Overall the Foundations in Engineering grant has had a profound impact on the young learners of Center School. The grant provided the resources and materials to approach STEM in a meaningful manner as well as expose students to a wide array of STEM activities. The HEF grant engaged Center Students in a unique STEM experience that contributes to school success and builds lifetime impressions."