HOPKINTON, MA, January 28, 2016 – The Hopkinton Education Foundation is proud to announce Joe Dominguez, a native of York, Maine and Director at AllianceBernstein, as the winner of the invitational number for the 120th Boston Marathon.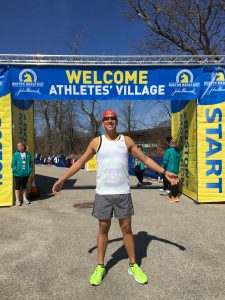 Mr. Dominguez has committed to raising $6,000 for the Hopkinton Education Foundation.   Joe chose the Education Foundation because he believes "there is no more productive way to invest a dollar than in a child's education. The return is immediate and the dividends can last a lifetime!"
Joe grew up in Southern Maine but relocated to Tampa, FL in 2001 where he is raising his two boys Joey (6) and Charlie (5).  His ties to New England are still strong: his French Bulldog is named Boston and his fish is Tom Brady!
Joe graduated from Colgate University in 1999 and has been working at AllianceBernstein since then.  As a Director at AB, Joe is responsible for working with financial advisors and institutions to advise them on the economy, capital markets and to share the company's research with the goal of helping investors achieve better financial outcomes.
The Boston Marathon will be Joe's 4th marathon.  He is a passionate runner and running in the Boston Marathon has been a lifelong dream of his.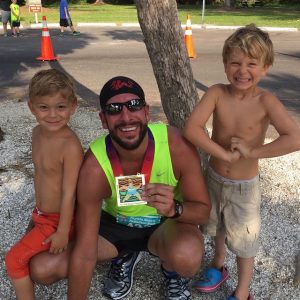 Joe's mom and both in-laws work in education as teachers. "I know how needed money is and how in the right hands, it can change the lives of children."  He is very excited to be running on our behalf.   HEF is proud to have a man who is invested in children's education and representing the organization on the run from Hopkinton to Boylston Street!
Please visit https://hopkintoneducationfoundation.org to learn more about Joe and to make a donation to his fundraising campaign.
About the Hopkinton Education Foundation
The Hopkinton Education Foundation provides funding, ideas and professional development to help Hopkinton educators deliver innovative educational experiences that inspire students to strive for excellence and become lifelong learners.  Since its inception in 1992, the Foundation has made more than 300 grants valued at over $1 million. Recent grants include a $17,200 Innovation Lab  grant at the High School and a $7,000 grant for Makerspace at the High School.  For further information, visit www.hopkintoneducationfoundation.org, or the Foundation's Facebook page.
***
Media Contact:
Sara Maida
Email:  [email protected]
Tel:  (508) 544-9897