Bill Goebel of Westborough Selected for Foundation's Invitational Boston Marathon Number
HOPKINTON, MA, January 25, 2017 – The Hopkinton Education Foundation is proud to announce Bill Goebel, a local family and businessman, as the winner of the invitational number for the 121st Boston Marathon.
Mr. Goebel has committed to raising $5,000 for the Hopkinton Education Foundation, however has high hopes that he can raise more, as he has successfully fundraised in the past. Other organizations he has fundraised include Special Olympics and Dana Farber, so Bill felt that he wanted to support a local education charity for his first Boston Marathon.
While he doesn't reside in Hopkinton, rather in Westborough, his employment at Bohler Engineering has him spending a lot of time designing town projects in Hopkinton including some of the larger recent developments.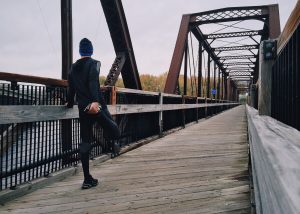 The connection to Hopkinton extends beyond work as well, this is Bill's first Boston Marathon and he believes what better town to support than the place where it begins! While this may be his first Boston, Bill is an avid runner. He ran the Seattle Rock and Roll Marathon in 2015 on his 50th birthday! Not only was that special for him but because his brother and family live in Seattle he was able to run with his brother and nephew, "making for a great family weekend." Marathons aren't the only challenges Bill has endured however, having completed triathlons, a PanMass Challenge and Spartan races.
Bill chose the Hopkinton Education Foundation to raise money for as he has felt very fortunate in his life. "Many friends and family have faced challenges and I wanted to be able to give back." What better way to give back than to support education!
As the marathon gets closer, Bill, his wife Cheryl along with three daughters will be gearing up for their trip to Hopkinton and various other spots along the exciting Boston Marathon route. "Everyone I talk to says the fan support along the route is one of the most amazing things to experience," says Bill who believes this will be worth all the mileage on his sneakers in the upcoming months. Congratulations Bill!